Vinyl deck coverings are gaining popularity across the world. But as homeowners, builders, and businesses transition away from wood decks and patios to this more advanced decknology, there are a number of questions.
As the top vinyl decking installer in the lower mainland, BC, we've heard it all and know the answers. In this article, we cover some of the most frequently asked questions on vinyl deck coverings:
What is a vinyl deck?
Vinyl decking is a sheet membrane, something like an exterior flooring material. It's applied over a solid plywood deck or roof deck surface to create a low-maintenance waterproof sundeck. Some refer to composite planks or hollow PVC boards as vinyl decking, but that's not what most decking contractors are referencing when speaking about vinyl decks.
What is vinyl decking made of?
Vinyl decking is made of layers of PVC and reinforcement fibers with a top layer that has a unique colour or pattern and texture. Each vinyl brand has a unique composition and varied vinyl backings.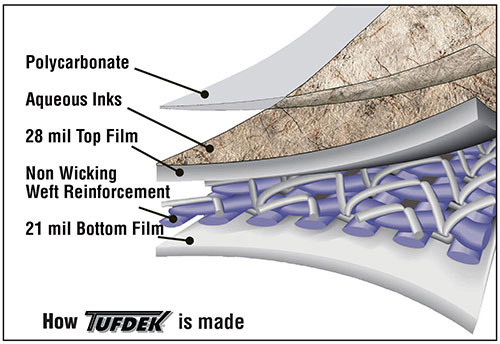 How thick is vinyl decking?
The standard thicknesses of vinyl decking are 45mil and 60mil. Some manufacturers vary from this standard, producing vinyl that is as thick as 68mil and 80mil. Thicker isn't necessarily better.
How much does it cost to install vinyl decking?
Professional installation of vinyl decking starts around $10 per square foot. Optional upgrades, needed preparation, and other factors can increase the cost per square foot to around $12-$15, on average. Online vinyl deck cost calculators estimate an average of $15 or so across all brands and regions.
The cost to install vinyl decking is moderate. Considering there are very little to zero costs for maintaining a vinyl deck, it's a smart option for homeowners and businesses.
How long does vinyl decking last?
Vinyl decking warranties are typically valid for 10-15 years. Like anything else, the better you take care of vinyl, the longer it will last. When properly installed and maintained, vinyl decks commonly last 20-30 years.
Can you paint vinyl decking?
It's not recommended to use general exterior paint on your vinyl deck. However, if you want to freshen up the appearance of your deck or extend its waterproofing capabilities, you can apply a liquid deck coating.
Read more about painting your vinyl deck.
Can vinyl decking be repaired?
You bet. Vinyl decking creates a continuous waterproof membrane, so when that barrier gets a hole in it, repair is essential. While it's not as simple as removing and replacing a board, there are a few different ways you can make it happen. Check out five ways to repair vinyl decking.
How do you clean Duradek?
One of the best features of vinyl decking like Duradek is that it's super low maintenance. It doesn't take much to keep it clean, but once a quarter–or whenever you have stains–it's important to give it a quick wash. For your complete guide, check out how to clean your vinyl sundeck.
How do you prepare your deck for a vinyl covering?
What's underneath your vinyl decking–the substrate–is arguably the most important part of the deck, from a durability viewpoint. Typically, vinyl is applied with glue over plywood. It can also be applied over non-sealed concrete.
To prepare your deck for a vinyl covering, the substrate must be smooth, clean, dry, and well-sloped. Patch any imperfections in the substrate including plywood joints, cracks, screw holes, low points, and gouges. Check out these helpful vinyl installation guides.
Can you install vinyl over fibreglass?
It's not recommended to install vinyl over fibreglass decking. As fibreglass ages, so does the plywood beneath it. When the fibreglass or plywood below a vinyl membrane fails, it can cause an unattractive, uneven surface. With time, the failed fibreglass can puncture the vinyl decking and require complete removal and replacement. If you have a fibreglass deck and want a vinyl deck, it's best to rip the old material out, apply new plywood, and install vinyl decking. This process will save you time and cost long-term.
How do you install a vinyl deck covering?
First, prepare the deck for vinyl (see above). Next, apply adhesive to the plywood and roll out the vinyl sheets, ensuring a ¾ in overlap. Also, make sure that the vinyl runs 8 inches up exterior walls for adequate waterproofing. Heat weld the seams and secure the perimeter. Or, call your local certified Duradek installer.
Is vinyl decking waterproof?
Yes, when installed properly, vinyl decking is a complete walkable waterproof membrane. By following the manufacturer's installation specifications, you can be confident that your home is protected from water damages.
Can vinyl decking be used on roof decks?
Vinyl sheet decking is a perfect material for roof decks. Many quality vinyl decking manufacturers have roofing certifications for some or all lines of vinyl that they produce. The most reputable manufacturers have a process in place for quality control. Duradek contracts a 3rd party company, which comes to the facilities once every three months to collect random samples for testing.
To be a qualified roofing material, vinyl must measure up to building material standards set by national organization. The Canadian General Standards Board (CGSB) and the International Code Council (ICC) uphold the standards for roofing membranes in Canada and the US, respectively. Read more about PVC roofing material certifications.
What are the pros and cons of vinyl decks?
Vinyl decking has a ton of pros and, admittedly, a few drawbacks. The benefits of vinyl are it's: Waterproof, low-maintenance, UV and mildew resistant, available in a variety of patterns, can be applied on roofs and over living space, and generally has a 5-15 year warranty. Some cons of vinyl decking compared to other materials are that it does not have the look of a traditional deck and many suppliers require professional installation so DIY may not be an option.
Can vinyl be installed over my existing deck?
Unless your existing deck is plywood or unsealed concrete, it's not recommended to install vinyl over an existing deck. Applying a vinyl membrane over old decking will generally void any warranty that's offered, increase the risk of the waterproof membrane failing, and reduce the durability and lifetime of your new vinyl deck. When installing a vinyl deck covering, it's always recommended to apply it on a suitable substrate.
Can you put a vinyl deck covering over wood?
You should always apply vinyl decking over a continuous surface. Applying it directly over a wood plank deck is a no-go. Instead, remove the wooden planks and install plywood on the joists, then apply the vinyl deck covering.
Can you DIY vinyl decking?
Sure! Some manufacturers require a certified installer, but you can buy vinyl decking at the hardware store for DIY installation. While you can do it yourself, bear in mind that the even the best vinyl material installed poorly will yield disastrous results. Unless you're an experienced vinyl decking installer yourself, hiring a pro to install your vinyl decking is the best long-term decision.
Is vinyl decking resistant to sun damage?
Absolutely. Vinyl decking is formulated with UV inhibitors that help it stand up to rapid degradation from prolonged direct sunlight. But not all vinyl is created equal, some brands have better UV inhibitors than others. If this is a concern for you, make sure you check out our complete vinyl decking warranty guide to see which brands offer an appearance warranty (and what the terms of the warranty are).
Can you use Duradek inside?
As a rule, installing exterior building materials indoors is not recommended. Vinyl decking like Duradek is formulated with chemicals to inhibit mold, mildew, and UV degradation. While these are harmless when applied in areas with proper ventilation (i.e. outdoors), it's not suitable for indoors.
How does a vinyl deck covering compare to a liquid deck coating?
Both vinyl and liquid coatings can be used to waterproof a deck surface.
Liquid deck coatings have limitations on the weather conditions they can be applied in, making them more challenging to apply outside of mild summer days. They require multiple layers and therefor take multiple days to complete application. However, are completely customizable in colour and texture. Liquid deck coatings are most often applied to concrete surfaces but can also be applied to plywood.
Vinyl decking can be applied in much more varied temperature and precipitation conditions, making it a practical choice for deck renovations throughout the year. It comes in numerous colours and patterns to suit all tastes and installation can often be completed in one day.
Are vinyl decks slippery?
Vinyl decking has a technical texture on the walkable surface for slip resistance. However, mildew buildup, pooling water, or ice can masque the texturing, making the surface slippery. When properly prepared and maintained, this texture will keep the vinyl deck as slip resistant (or more so) than any other decking material.
Is a vinyl deck covering ideal for freezing climates?
Vinyl decking is physically flexible so it's not going to crack or break with freezing and thawing cycles as wood or concrete can be prone to. Because of its waterproofing capabilities, it provides dry storage or living space below to keep you and your belongings out of the cold.
When clearing ice from your vinyl deck, it's important to avoid using sharp tools or corrosive chemicals that may damage the membrane. Follow these three tips for winter deck care and you'll see that vinyl is perfect for deck in cold climates.
Is a vinyl deck covering ideal for hot climates?
Anyone who has stepped outside onto a hot deck in bare feet knows the perils of sundecks in warm climates. Many homeowners want a decking material that will stay cool even in intense sunlight. While the laws of physics has not yet allowed a material with such ideal qualities, vinyl decking does offer some reprieve from burning feet. Vinyl is no hotter than any other decking type. Because vinyl comes in a wide variety of colours, choosing a lighter colour, which reflects more sunlight, will help to keep the deck surface cooler in hot climates.
What kind of maintenance does a vinyl deck require?
Vinyl is one of the lowest maintenance decking materials you can buy. It requires only seasonal washing and visual inspections. There's no painting, sealing, de-rusting or other time consuming and costly maintenance required.
If you have more questions on vinyl deck coverings or want to request a free quote for your vinyl deck installation, please fill out the form below or call Citywide Sundecks at 604-786-3325.